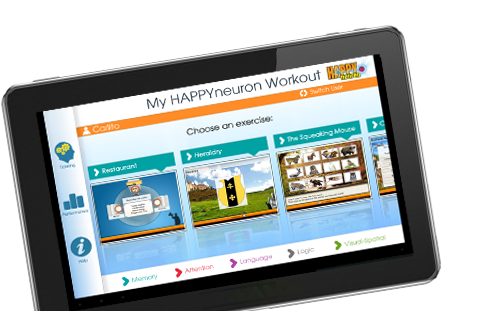 Intro
My HAPPYneuron Workout offers Android tablet users a great simplified version of HAPPYneuron's brain training on the go.

The app features many popular HAPPYneuron games to stimulate your brain and track your progress over time. My HAPPYneuron Workout is simple and easy to use.

It brings effective and progressive training and a coherent analysis of the user's performance.
How to play
Once you have launched the application and created your user account, you can access three menus:

- The Training menu allows you to launch a game. You can choose from 20 brain stimulation exercises divided into five cognitive functions: Memory, Attention, Language, Executive Functions, Visual and Spatial skills. When you try a game for the first time, you should go through the example to familiarize yourself with its concept. These results are not taken into account in your performance. You can then choose the level of difficulty you wish.

- The Performances menu allows you to view your results and track your progress for each cognitive function.

- The Help menu gives you information on how the application works as well as advice to make the most of it.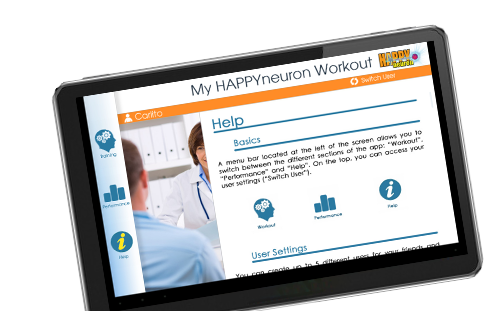 Features
My HAPPYneuron Workout is now available in French and English for Android tablets.

You can create up to 5 user profiles and train your brain offline. Just like any app, it is quick and easy to install.

The HAPPYneuron games are taken from the online method. They have been scientifically developed and validated.