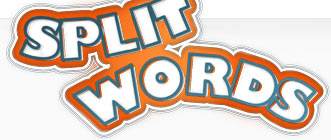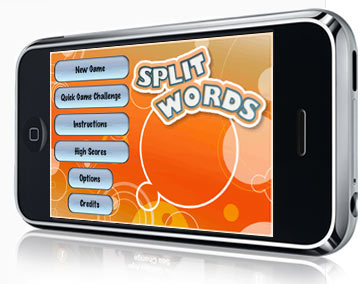 HAPPYneuron's most popular game Splitwords on the iPhone, iPod Touch...
Splitwords is available on the Appstore. This is THE game you need to help you banish that 'tip of the tongue' syndrome forever.


Challenge your brain by forming complete words as quickly as possible from a set of syllables in a table. Various categories of words are available, and they can either have 2 or 3 sets of syllables.

Think it's too easy? Just keep on climbing up the difficulty scale, and it can really get tough!


Let Split Words exceed your expectations
You want to practice and maybe beat the world's best players? There are more than 100 difficulty levels, a long way to go before the Olympics! You can publish your high scores online!
You just have a few minutes to stimulate your grey matter? Choose the Quick challenge mode: a simple game, only one table.
Take advantage of all the features of SplitWords to learn a new language or simply improve your vocabulary in French, German, Spanish, Portuguese or Dutch.
Download the complete version of SplitWords on the Appstore!
Not completely convinced yet?
Download the demo version for free.
Cannot resist the Green Trend? Try the
Nature
version and explore all the themes related to the nature:
Download SplitWords Nature.
You can also try the ultimate English version: English themes only!
Download SplitWords English.
Discover now SplitWords game specially revised and adapted to the iPad tactile technology.
All the app features you like are available: publish online, choose the language you want, use the Quick challenge mode...
Download SplitWords for iPad

STAY CONNECTED TO DISCOVER NEW HAPPYNEURON GAMES SOON!

Free
Split Words Lite


$3.99
Split Words - Complete


$0.99
Split Words - Nature


$1.99
Split Words - English


$5.99
Split Words - iPad


$0.99
Split Words - Sports Edition
Having trouble using Split Words on iPhone and iPod Touch?
Our tech support is here to help:
iphone-support@happyneuron.com
More games on
happy-neuron.com !